Rigid Industries in partnership with Chevrolet, is proud to announce their Project Chevrolet "Baja" Silverado for the 2011 SEMA Show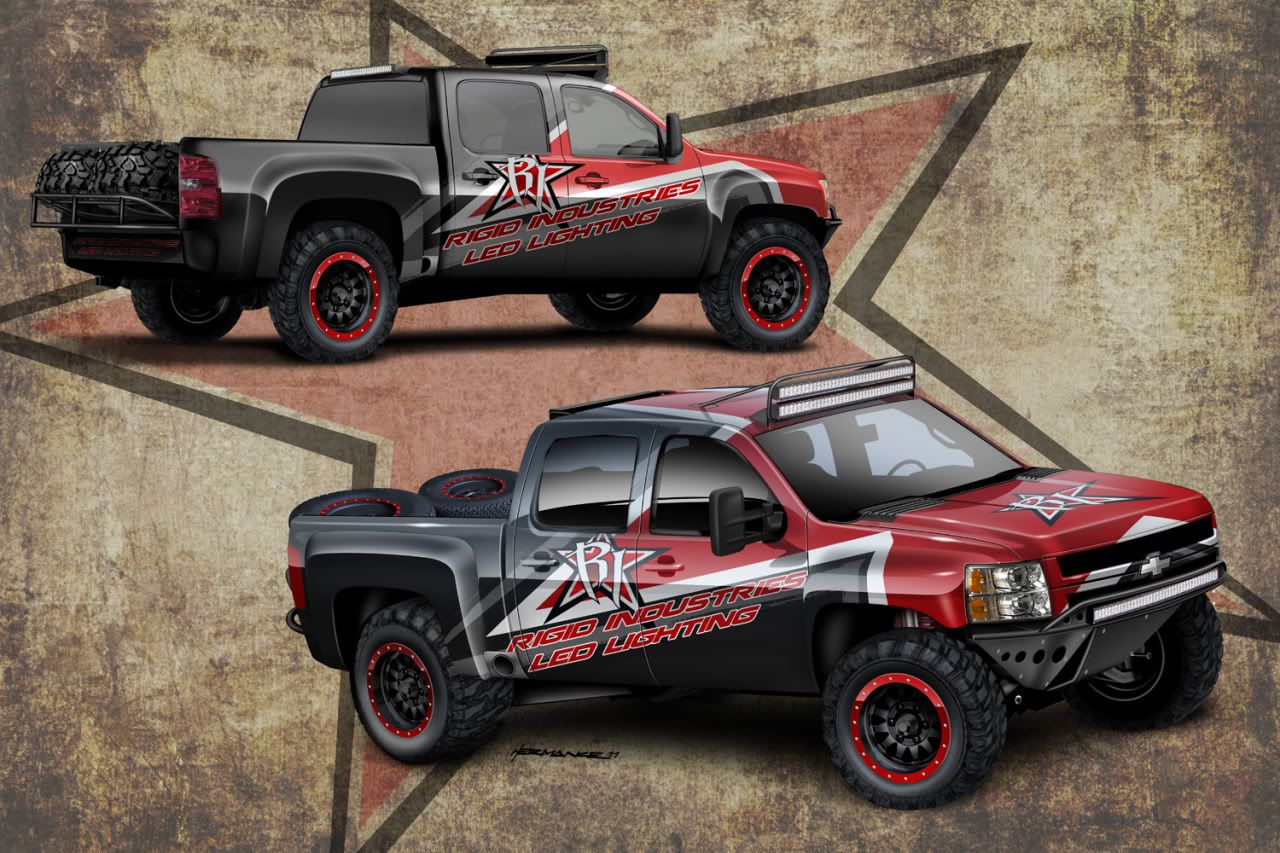 (Mesa, AZ – 10/14/2011) – Industries, manufacturers of the brightest, most efficient off-road LED lighting products in the industry are proud to announce their newest SEMA Show project for 2011, the Chevy "Baja" Silverado. In this partnership, Rigid and Chevrolet look to produce one of the most sophisticated off-road support vehicles of its kind.
Project "Baja" Silverado will be built on the award-winning 2011 Chevrolet Silverado 2500HD 4×4 and powered by the popular Duramax Diesel / Allison Transmission drive train combo.  The "Baja" Silverado will utilize parts from the industries top manufacturers including BFGoodrich, Method Wheels, and Pure Performance.  This exciting new SEMA Show build will also feature the latest in LED off-road lighting technology from Rigid Industries.  The concept behind the new "Baja" Silverado is to build the best off-road support vehicle possible. Rigid will be equipping the Silverado with the proper technology and aftermarket hop-ups to assist in gaining access to the most remote off-road areas and traverse the most rugged of terrain.  Aftermarket accessories will include suspension, wheels & tires, external body protection, on board navigation and radio communications, and engine performancemodifications.  It will be topped off with a graphics wrap that will surely make this vehicle a true one of a kind.
"We are very excited for the opportunity offered us by GM Chevrolet to bring a concept Off-road Vehicle to SEMA at the OE level." –Taylor Anderson- VP/Director of Marketing for Rigid Industries  Project "Baja" Silverado will be unveiled at this year's 2011 SEMA Show at the Las Vegas Convention Center.  In addition to the SEMA Show Rigid Industries "Baja" Silverado will also be seen at up to 32 race and off-road related events and shows that Rigid attends and sponsors.  Project Chevy "Baja" Silverado won't just be a trailer queen either.  Rigid Industries plan's to put its Chevrolet HD 2500 4X4 truck to work and use it to support their many sponsored off-road race teams which consist of 2 SCORE Trophy Truck and 2 SCORE Class 1 buggy teams which race both here in the United States and of course in the infamous Baja California, Mexico peninsula.
Rigid Industries is known for their high quality products & services and our projects always reflect these attributes.  We look forward to bringing the "Baja" Silverado to life and bringing it to you at this year's 2011 SEMA Show.
For more information on Rigid Industries please visit our website at www.RigidIndustries.com
About the SEMA Show
The SEMA Show is the premier automotive specialty products trade event in the world. It draws the industry's brightest minds and hottest products to one place, the Las Vegas Convention Center. In addition, the SEMA Show provides attendees with educational seminars, product demonstrations, special events, networking opportunities and more.
SEMA Show 2010 drew more than 50,000 domestic and international buyers. The displays are segmented into 12 sections, and a NEW Product Showcase featured nearly 1,500 newly introduced parts, tools and components. In addition, the SEMA Show provides attendees with educational seminars, product demonstrations, special events, networking opportunities and more.
About Chevrolet
Founded in Detroit in 1911, Chevrolet celebrates its centennial as a global automotive brand with annual sales of about 4.25 million vehicles in more than 120 countries. Chevrolet provides consumers with fuel-efficient, safe and reliable vehicles that deliver high quality, expressive design, spirited performance and value. The Chevrolet portfolio includes iconic performance cars such as Corvette and Camaro; dependable, long-lasting pickups and SUVs such as Silverado and Suburban; and award-winning passenger cars and crossovers such as Sonic, Cruze, Malibu, Equinox and Traverse. Chevrolet also offers "gas-friendly solutions including Cruze Eco and Volt. Cruze Eco offers 42 mpg highway while Volt offers 35 miles of electric, gasoline-free driving and an additional 344 miles of extended gasoline range, according to EPA estimates. Most new Chevrolet models offer OnStar safety, security and convenience technologies including OnStar Hands-Free Calling, Automatic Crash Response and Stolen Vehicle Slowdown. More information regarding Chevrolet models, fuel solutions, and OnStar availability can be found atwww.chevrolet.com.
About Rigid Industries
Founded in 2001, Rigid Industries has been providing off road products and accessories at a great value. Customer service has always been a cornerstone, as well as innovation. Cutting edge style and function keep our customers coming back. This tradition continues with the acquisition of Holder Offroad. As the manufacturer of the E-series LED light bars, the brightest and most efficient LED light, we raise the bar on lighting technology. These lights are revolutionizing the way the night is navigated.  In 2008, Rigid Industries acquired Dirt Lights, Inc. and Plane Lights, Inc. to expand the lighting products to include high quality HID products as well. The addition of these 3 companies has allowed Rigid Industries to offer a complete line of powersports, military and off-road lighting.